Professional Hearing Evaluation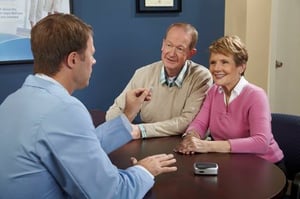 Some people are nervous about undergoing a hearing evaluation. Maybe they're scared what the results will be. Will they need hearing aids after all? The hearing aid evaluations conducted at local Beltone offices are painless procedures that will help you get a handle on your hearing. View our testimonials from Beltone customers.
Book A Free Hearing Evaluation
Hearing tests screen and evaluate how well you hear a variety of sounds. They're recommended for anyone over the age of 50 or sooner for those who have been experiencing hearing loss symptoms. You no longer have to be wary of what to expect.
"Prompt. Very customer oriented. Took the time to answer all my questions. I highly recommend this office for your hearing needs." - Scott C.
At Beltone, we offer professional hearing screening and evaluation services to patients of all ages. While hearing screening is a superficial test, a hearing evaluation is a more comprehensive assessment of your hearing ability. You must first undergo screening since it determines if the doctor should further evaluate your hearing.
Our licensed audiologists will use their vast experience to screen your ears and asses the state of your hearing. This initial test will determine whether you need further evaluation.
What to Expect During a Hearing Evaluation
Better hearing improves quality of life in many different ways, from increasing your earning power at work to enjoying better communication with family and friends. However, we never recommend hearing aids to those who don't need them. That's why before undergoing a hearing evaluation, there are a couple of important steps that we'll want to conduct to see if further testing is necessary.
1. Lifestyle Assessment: All care provided at Beltone is individualized according to your specific needs. That's why our first goal is to get to know you and your hearing priorities better. This will help us determine what benefits amplified hearing could have on your unique lifestyle. Before your visit, download and complete our Personalized Hearing Health Assessment form. It will be a great way for us to start the conversation at your hearing appointment.
2. Health and Hearing History: Our ears aren't the only thing that affects hearing. Many are surprised to learn that your overall health and even the medications you take play a role. The more we understand about your health history, the more information it gives us about your ability to hear. Expect to be asked many questions about not only your personal ability to hear, but also your family history. We'll also need to know about any medications you're taking, as some can be harmful to your hearing.
After this initial screening, it's time for the actual hearing evaluation.
Comprehensive Hearing Evaluation Steps
A comprehensive hearing evaluation is a multi-step process that's critical in assessing your sense of hearing. This test determines whether you have hearing loss and further evaluates the severity of the problem. Furthermore, this evaluation includes several tests that gauge your ability to hear a variety of sounds.
Here is what you can expect during your hearing evaluation. This procedure includes the following steps:
1.Visual Examination of Your Ear: This step entails examining your ears using an otoscope. The test will establish if there are any defects, injuries or physical objects impeding your hearing. Our audiologist will ask you several questions about your hearing to give us a better idea of what's going on.
2.Air and Bone Conduction Testing: Air conduction testing evaluates hearing loss using an earphone placed on the outer ear. We will test whether sound signals are reaching the cochlea in the inner ear from the outer ear. Bone conduction uses an electromechanical earphone placed on the skull to measure how well your inner ear is functioning.
3.Word Discrimination Testing: This test evaluates clinical speech by measuring how well you understand the words you hear to determine the severity of your hearing loss.
All testing performed by Beltone practitioners are nationally accepted guidelines set forth by the International Hearing Society, the American Speech-Language-Hearing Association and the American Academy of Audiology.
What to Expect After Your Hearing Test
Once your test is complete, we don't want to leave you in the dark about the results. Hearing loss can take many forms, and our hearing care professionals will help you fully understand what sounds you're missing. They'll also be able to offer suggestions about how to optimize your ability to hear. The two services we provide after your hearing evaluation include:
1. Hearing Test Results: The results of your hearing evaluation take the form of an audiogram or a visual representation of how well you hear. Looking at the audiogram with a hearing care professional, you'll be able to discuss the results and find out where you hear normally and where you're missing out.
2. Hearing Aid Demonstration: We wouldn't buy a car without giving it a test drive first. Hearing aids are a financial investment, and the staff at Beltone allows you to "try before you buy." This will help you determine if hearing aids are right for you.
Call Beltone Today for a Professionial Hearing Screening and Evaluation
Whether you're ready to come to one of our convenient locations or you require an in-home hearing consultation, call Beltone today or complete our online form to schedule your free hearing evaluation, and our customer service staff will respond promptly.