Hearing Aid Repair Services
You shouldn't have to fear high costs for hearing aid repairs. Beltone offers BelCare™, a program that provides a lifetime of hearing care and protection that is included with all Beltone hearing aids.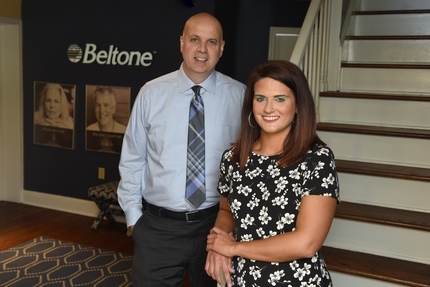 Complimentary annual hearing screenings, free hearing aid cleanings and inspections, and one to three years of lost, stolen or damaged protection is included in Beltone's BelCare™ program. Regularly scheduled hearing aid cleanings help recognize performance or maintenance issues. Annual hearing screenings will evaluate any changes in your hearing. If a permanent and measurable increase in sensorineural hearing loss is detected within the first two years of your original Beltone hearing aid purchase, a more powerful Beltone hearing aid will be provided at no additional charge.
Our level of care is provided from the time of your first hearing screening through the lifetime of owning a Beltone hearing aid. Beltone is the only hearing aid company that provides this level of commitment to help you protect your investment in better hearing.
After visiting one of Beltone's 1,500 locations, you can expect the following:
Caring and compassionate attitude
Confidence in understanding how to use your device because we pay close attention to every detail of your hearing aid
Noticeable improvement in hearing and the ability to distinguish between various sounds effectively
Take the next step and enjoy our warm, personalized service. Visit a Beltone hearing aid center to receive a free consultation.
Contact us to learn how you can enjoy better hearing today.