Hearing Aid Screening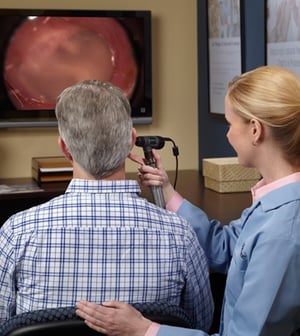 A hearing aid consultation is the first step to treating your hearing loss. Whether you come to one of our Beltone offices or we come to you for an in-home consultation, we strive to provide the highest-quality care and professional service possible.
"Friendly staff with the best technology available. What a first-class operation!" - Garrett M.
During this session, our experienced audiologists will carry out thorough screening tests and evaluate your hearing abilities to determine the severity of your hearing loss. Furthermore, the audiologist will discuss issues and provide information such as the latest technological advances, as well as costs associated with purchasing a hearing aid, before recommending the best device to suit your condition. From this consultation session, you'll be able to make a more informed decision before buying a hearing aid.
Unlike many hearing aid distributors, we don't require our customers to come to the office for a hearing aid consultation. We provide our services in the comfort of your own home. That's because our goal is to provide not just better hearing, but also an experience you won't find anywhere else.
Beltone In-Home Hearing Consultations
Hearing loss is common among seniors. The older population might not find it convenient to leave the comfort of their homes to visit an audiologist. For this reason, in-home hearing aid consultations have become common in recent years.
At Beltone, we provide in-home consultation services to our clients because we accept the fact that some patients may not be able to leave their home and come to our offices. We also offer in-home service and repair visits, where we'll program your hearing aid to function at optimum efficiency.
Apart from in-home consultations, we attend to hearing loss patients in nursing homes and assisted living centers. All our staff members are licensed and possess relevant accreditation from various authorities. Our experienced audiologists and professional dispensers use the latest technology to carry out comprehensive screenings and evaluations. This allows us to offer you exceptional testing services without having to exit your home.
What to Expect at a Hearing Aid Consultation
Some people are nervous about getting their hearing checked, but you can rely on our team of audiologists and hearing aid consultants to provide premium service. We know your time is valuable. That's why we offer prompt, professional service at every stage of the hearing aid consultation. Here's step by step what you can expect:
Lifestyle Assessment:We want to understand your priorities and the lifestyle that better hearing will help you with. Are you active in the outdoors? Do you love concerts and movies? Do you go to work every day? These are the types of questions that will help us get to know you and help us find the right hearing aids for you. Be sure to download, print and fill out the Personalized Hearing Health Assessment, which will help us get the conversation started at your consultation.
Health and Hearing History:There's a lot of things that play a role in hearing. Your health, family history and even the types of medications you take could influence this. During your consultation, we will ask questions that will help us better understand what's affecting your ability to hear.
Hearing Evaluation:This part of the consultation measures how well you hear different sounds, tones, and speech. A Beltone hearing care professional will conduct several tests that evaluate your hearing. This includes a visual exam using an otoscope, air and bone-conducting test, and a word discrimination test.
Hearing Test Results:After these steps are complete, your Beltone hearing care professional will go over the results of your evaluation using an audiogram, which is a visual aid that shows the sounds you hear and those you do not. We know this will provide a lot of enlightenment as to the extent of your hearing loss.
Hearing Aid Demonstration:The final stage of our hearing aid consultation is a demonstration of how these devices could be used to improve your hearing and provide a higher quality of life. You'll be able to try on actual hearing aids and take them for a test drive before choosing whether or not they're right for you. Our hearing aid consultants will provide you with as much information as you need to help you determine whether or not to purchase. There's even financing options available to those who require them.
Take the Next Step and Contact Us Today
At Beltone, we make sure our patients experience the comfort and attention they deserve by offering personalized assistance. Call us today or
book your appointment online
for exceptional audiology services. Our customer care team is ready to answer all your questions.