From top to bottom, Beltone hearing instruments bring you the utmost in quality. Advanced technology combines with superior materials to deliver remarkable performance.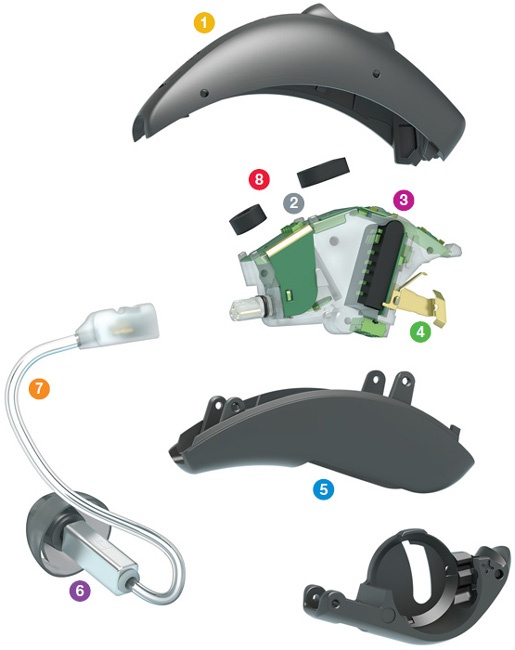 1. Custom-engineered case cover
Specially built to lock out moisture and block out dust, wax and oils.
2. Microphone protection
A double layer of HPF80 NanoBlock™ keeps the microphone free from moisture and debris. Sounds stay consistently clear.
3. Digital signal processor
Advanced technology provides best in class sound quality, noise reduction, speech understanding and comfort.
4. Gold-plated battery contacts
Real gold is layered onto battery contacts to prevent corrosion and keep your hearing aids working like new.
5. HPF80 NanoBlock™ coating
We coat all components—inside and out—with a protective layer to safeguard sensitive circuitry from dampness and dirt.
6. Powerful receiver
Designed to be lightweight and shockproof, Beltone Legend™ features domes with built-in wax guards.
7. Wireless antenna
Beltone's industry-leading 2.4 GHz wireless technology helps you hear clear sound from TV, Stereo, PC or phone.
8. Microphone Gore™ filters
High-tech Gore filters trap moisture and particulate matter, while allowing sound to pass through.
Get in touch with us!
Please send any questions, comments, or appointment requests and we will get back to your shortly. We'd love to hear what you think!