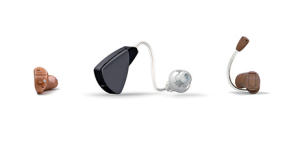 Beltone Promise™
The Natural Choice
The Beltone Promise™ adapts to different surroundings constantly and is designed to hear the same way your ears do. Your hearing aids automatically self-adjust by communicating with each other.
Beltone Promise™ comes in several popular styles–from customized completely-in-the-canal models to behind-the-ear varieties and more. Smart Gain Pro is designed to address hearing in multiple listening environments by adjusting noise reduction settings automatically when the hearing aid identifies a change in your listening environment.
Are you interested in a hearing aid that reduces background noise and helps you hear clearly in any environment? Beltone Promise™ is the best hearing aid for restoring normal hearing, mimicking the natural functionality of your ears and adapting automatically to changes around you.
We have this hearing aid in a variety of styles. Each one can be customized to suit your needs. That's why you should visit the nearest Beltone hearing aid center or call our audiologist to help you schedule a home visit so we can do a thorough hearing test for you.
Beltone Promise™ Hearing Aid Features
Some of this aid's best qualities include:
CrossLink Directionality: In a noisy environment, Beltone Promise™ can easily prioritize important sound frequencies above others. This helps you hear speech clearly and still notice distinct ambient sounds.
Ear-to-Ear Synchronization: You'll enjoy smooth transitions when you move from a noisy place to a quiet one and vice-versa. When you adjust the hearing aid in one ear, the settings are transferred to the other one automatically.
Feedback Eraser With WhistleStop: This helps cancel unwanted noise that occurs when objects come close to most hearing aids.
Smart Gain Pro: This helps raise the volume of sounds you want to hear while reducing background noise.
What You Can Expect After Using a Beltone Promise™ Hearing Aid
Enjoy exciting conversations with people even when there's a lot of background noise
Feel confident because you can hear clear sounds and tones, making you feel as if you have brand new ears
Access continuous support and after-sales care from our team
Take the next step towards improving your hearing and visit the closest Beltone hearing aid store today so we can customize a Beltone Promise™ device to meet your needs.