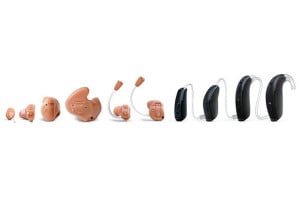 Beltone Legend™
Your Perfect Match
With features like Personal Sound ID™ and CrossLink Directionality with Personal Sound ID, Beltone Legend helps bring back natural hearing.
Every person is unique, and so is their hearing. So, a hearing aid doesn't just need to match your hearing loss, it needs to match your lifestyle and individual preferences. Beltone Legend hearing aids adapt to your unique situation and individual needs better than any other hearing aid on the market.
Superb sound quality and speech understanding are the main focus, thanks to Personal Sound ID™ and Crosslink Directionality, but other features like Smart Gain Pro and Feedback Eraser add adaptability, and intelligence. Made for iPhone® integration lets you stream sounds wirelessly to your hearing aids from your iPhone, iPad® or iPod touch®, while the HearPlus app allows you to control your hearing aids directly from your iPhone, iPad and iPod touch. There is no need to compromise when you choose Beltone Legend.
Would you like to use hearing aids that focus on speech and offer dramatic hearing improvement while adapting to your individual preferences and lifestyle? We gladly recommend Beltone Legend™ hearing aids to meet your needs.
While fitting perfectly behind the ear, this aid does the job better than other hearing devices.
Beltone Legend™ Hearing Aid Features
This aid has:
Personal Sound ID: Imitates the differences in natural sound level between your ears so you can easily know the direction a sound is coming from
Crosslink Directionality: Improves the quality of sound by tracking the environment and switching to the best settings for natural speech
Feedback Eraser: Combines with WhistleStop to monitor feedback and cancels it without any loss in sound quality.
However, the features that make it an outstanding choice are:
Smart Gain Pro: Adjusts the volume of your device and adapts instantly to the changes in your environment
Sound Cleaner Pro: Works like the Smart Gain feature to reduce background noise so you can be in a noisy environment and still enjoy your conversation
Ear Synchronization: Instantly applies any changes you make from this device to another one, so you don't have to set up more than one instrument
Sound Shifter: Makes it possible to pick up higher-pitched sounds and hear a full spectrum
Made for iPhone: Allows you to stream sounds from your iPhone or iPad directly to your hearing aid
Hear Plus App: You control your hearing aid from your iPhone or Android phone
If you're looking for hearing aids that focus on speech and help you enjoy high-quality sound during conversations in any environment, the Beltone Legend™ could be the best choice for you. You don't have to simply take our word for it — visit the closest
Beltone hearing aid center
and find out for yourself!