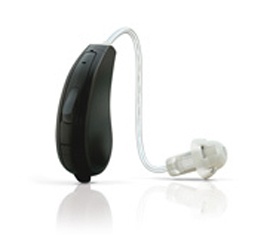 Beltone First™
Made For Your Smartphone
The sleek design of the Beltone First™ is nearly invisible. Control your hearing aids, modify sound, and stream wirelessly from your smartphone discreetly. Beltone First™ hearing aids give you new ways to hear the sounds you love. With Made for iPhone capability, Beltone First™ hearing aids receive clear, clean sound streamed from your iPhone, iPad® and iPod Touch®…like tiny wireless headphones.
Beltone First™ hearing aids wirelessly communicate with each other to customize sound as your surroundings change. By prioritizing speech, it's easy to hear the conversation, even in noisy places. Enjoy seamless transitions as you move from quiet to loud environments. Best of all: it's all hands-free.
Pick up the phone, listen to music, watch a movie and get the sound directly through your hearing aids.
If you want an award-winning hearing aid that has a nearly invisible design and offers clean, clear sound with seamless integration and control from your smartphone, then Beltone First™ is your best bet. Beltone First™ hearing aids are the best ergonomically designed hearing aids on the market today.
You can use the Beltone First™ slim hearing aids to hear any conversation, even in the noisiest environment. The best way to experience the unique power of this hearing aid is to pay a visit to the nearest Beltone hearing aid center and let our audiologist help you customize it to meet your needs.
The Beltone First™ hearing aid features:
CrossLink Directionality: Keeps track of changes in your environment to make it easier to focus on your conversation and still hear background sounds
Sound Cleaner Pro and Smart Gain Pro: Instantly identify any changes in the environment and help you cut out excess noise
Feedback Eraser and WhistleStop: Stop whistling while you use your phone, when you hug people or when you bring things near your ears
HearPlus App: Works with an iPhone or a Samsung Galaxy phone to help you control the Beltone First™ device and customize it further to meet your needs
What to Expect From the Beltone First™ Hearing Aid
When you choose a Beltone First™ hearing aid, you'll:
Enjoy crisp and clear sounds that make you feel as if you've just received brand new ears
Feel confident because you can now control your hearing aid from your smartphone
Enjoy conversation with people in any environment from closed-door chats to open, windy atmospheres
Ready for a better quality of life? Take the next step and visit the nearest Beltone hearing aid store today. We'll examine your hearing and customize a Beltone First™ hearing aid just for you.