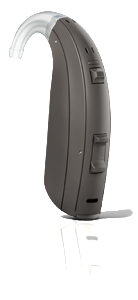 Beltone Boost Max™
Great Power and Reliability
The Beltone Boost Max™ allows you to face obstacles and live the life you desire. The Beltone Boost Max™ is one of the most powerful hearing aids on the market today and is made for people with severe-to-profound hearing loss and. It's a comfortable hearing aid that reconnects you to the sounds or conversations you might have been missing.
Ergonomically designed for all-day comfort, Beltone Boost Max™ offers great power and more features than ever in a truly compact size. Beltone Boost Max™ is available in a variety of colors to match your style.
Thanks to Made for iPhone® and Android integration, wirelessly connect your super power hearing aids directly to an iPhone, iPad®, iPod touch® or Samsung Galaxy smartphone. No adapter or intermediary devices needed. It's easy and discreet.
Your hearing aids work like wireless headphones — talk on the phone, call through FaceTime®, or listen to music in stereo. It's a revolutionary way to help you hear sounds clearly and get an extra boost in life.
Beltone Boost Max™ hearing aids will surpass your expectations because they're designed to help you hear clearly no matter how bad your hearing may be today. Specifically created for those looking for hearing aids with ergonomic designs, this award-winning device fits perfectly around your ears and is comfortable to wear throughout the entire day.
Beltone Boost Max™ and other ergonomically designed hearing aids come in a wide variety of colors. We'll customize any model you choose, so it fits your ears perfectly. Our audiologists and hearing aid experts are available at the nearest Beltone center to help you test your hearing and fit the hearing aid for you.
Beltone Boost Max™ Features
Some of this device's best qualities include:
Smartphone Integration: Beltone Boost Max™ connects to your iPhone, iPad, iPod Touch, Apple Watch, and Android smartphone without any intermediary. This makes your hearing aids work as if they are wireless headphones delivering premium quality sound.
Feedback Eraser: Hear clean, crisp sounds without any whistling or buzzing.
Sound Shifter: Every sound frequency gets processed so you can hear birds sing, children talk and enjoy a greater sound spectrum.
CrossLink Directionality: Your hearing aid monitors your surroundings and adjusts its settings automatically to help you hear clearly when there's a lot of background noise.
Smart Gain Pro: This automatically eliminates unwanted background noise and adjusts the volume of your hearing aids.
Ear-to-Ear Synchronization: All your settings for one hearing aid are transferred and synchronized with the second one.
It's time to improve your hearing. Visit the nearest Beltone hearing aid center today and enjoy the best personalized treatment and after-sales care in the industry.