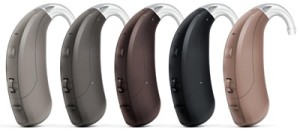 Beltone Bold™
More Power to your Life
Why compromise on hearing? The Beltone Bold hearing aid is engineered to bring sounds to life even with severe to profound hearing loss and for maximum comfort during daily activities.
Beltone Bold features advanced technologies to help you hear better. It gives you the power you need, so you can follow what's going on around you without distraction. Beltone Sound Shifter™ can make high frequency sounds, such as the voices of children or birds, easier to hear, while Adaptive Directionality™ and Speech Spotter™ options help you hear the conversation, even in noisy situations.
Beltone Bold is built to last. This robust hearing aid is coated with a protective layer, called HPF80 NanoBlock™, inside and out, to shield it from water, moisture and perspiration, so you can enjoy a more active life. HPF80 NanoBlock increases the lifetime of your hearing aids to help give you years of trouble-free use.
---