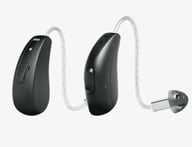 Beltone Amaze™
The most complete premium hearing aid solution.
Beltone Amaze is easy to use and produces amazing natural sound. Enjoy the sound of birds singing and grandchildren laughing. These Receiver-in-Ear (RIE) hearing aids are fully rechargeable, providing a full charge in as few as 30 minutes. These hearing aids are best suited for mild-to-severe hearing loss.
Beltone Amaze™ Features
Some of this device's best qualities include:
The most complete and finest hearing aid yet.
Impulse Noise Reduction: Reduces loud or uncomfortable sounds making the pleasant ones come through even clearer.
Smartphone Integration: Beltone Amaze™ connects to your iPhone, iPad, iPod Touch, and Android smartphone without any intermediary. This makes your hearing aids work as if they are wireless headphones delivering premium quality sound.
Remote Care™: Allows your Beltone Hearing Care Professional to make adjustments to your hearing aids no matter where you are.
Rechargeable: Make fiddling with batteries a thing of the past. Place your hearing aids on the charger overnight, and they will be ready again in the morning. If you forget to charge your hearing aids, no worries! With just 30 minutes of charging, Beltone Amaze is good to go another eight hours before the next charge.
It's time to improve your hearing. Visit the nearest Beltone hearing aid center today and enjoy the best personalized treatment and after-sales care in the industry.