Beltone Maryland Hearing Center Locations
Since 1940, Beltone has been the most trusted name for hearing aids. But Beltone doesn't just sell incredible products — we also offer a level of care that's unmatched. Customers in Maryland can now experience the Beltone difference at our Hearing Aid Centers.
Book Hearing Evaluation
Hearing loss is a prevalent problem that millions of Americans struggle with. Unfortunately, not addressing this issue can lead to many complications. Relationships at home and work suffer due to miscommunication. It can also lead to emotional and physical problems like heightened stress and memory loss.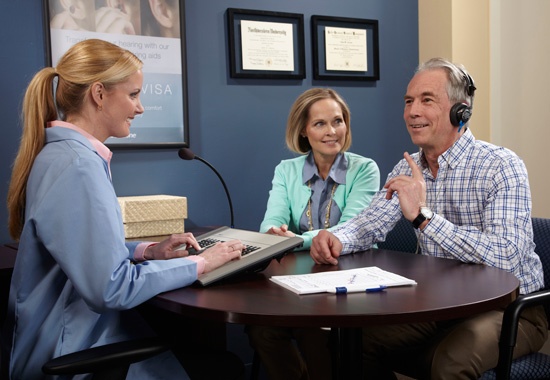 There is a solution. Beltone works hand-in-hand with patients in Maryland and beyond to improve their ability to hear. Starting with a comprehensive screening, the friendly staff at our hearing aid stores ensure that you get the best hearings aids for you. Even after you purchase your products, you're enlisted into BelCare™ — a comprehensive hearing program that ensures you'll continue to enjoy great hearing for years and years.
Get a Hearing Screening Test at a Maryland Location
You may be unsure whether or not you even need a hearing aid product. That's why Beltone is there to assist you from the get-go. We provide comprehensive hearing evaluations at all of our Maryland locations. If it turns out that you don't need hearing aids, we guarantee we'll inform you.
Proudly Serving Patients At These Hearing Center Locations:
Even if you can't make it to our hearing test center in Maryland, one of our experienced audiologists will set up a time to perform the hearing screening test in the comfort of your own home.
The test evaluates your hearing in multiple ways, assessing the different factors that could be affecting your hearing loss. The evaluation includes:
A lifestyle assessment
Physical examination of your ear
Both bone and air conduction tests
Word discrimination test
Once the results are back, a staff member will review your audiogram with you, which is a visual guide that shows the extent of your hearing loss. Only at that point will they discuss hearing aid options and get you fitted. You can even take your hearing aid for a test run before purchasing.
Continual Care for Maryland Customers
The purchase of a Beltone hearing aid isn't the end of your relationship with us. In fact, quite the opposite. We commit to our customers' care by providing comprehensive support through BelCare™. We want to keep you living lives full of sound for years to come.
We also recognize that hearing aids are a financial investment. That's why you can visit any of our Beltone locations in Maryland and beyond if you're in need of a tune-up or repair. We don't just fix the issue — we make sure customers leave hearing better than before.
Don't live another day with hearing problems. Take the next step by visiting one of our Beltone Hearing Aid Centers in Maryland. Our professional staff will be there to walk you through the process from day one and well beyond.