Beltone @ Home
On-site Hearing Care and Concierge Service for 55+ Communities
Free Services
Educational Seminars for Residents and Family Members
Hearing Screenings
Otoscopic Exams
Regular Maintenance for Residents with Hearing Aids
Monthly Scheduled Visits
Health Fairs
Community Clinics
Wellness Events
Repair Pick-up and Delivery
CapTel Phones (Captioning & Amplified Phones)
Locations
Adams County
Cumberland County
Dauphin County
Franklin County
Fulton County
Juniata County
Perry County
York County
Beltone Hearing Aid Center is currently setting up partnerships with the senior living communities in the following Pennsylvania counties.
Beltone @ Home helps to identify patients with untreated hearing loss and educate on the effects that could occur if not treated.
1 in 10 Americans suffer from Hearing Loss.
54% of older people suffer from Hearing Loss.
90% of people over the age of 80 suffer from Hearing Loss.
Untreated hearing loss can lead to Isolation and Depression.
People with Diabetes have higher instances of Hearing Loss.
People with a greater degree of Hearing Loss are at a higher risk for Dementia.
People with mild to moderate hearing loss are 300% more likely to have a fall.
Individuals with cardiovascular disorders may be more prone to hearing loss and therefore in need of hearing evaluations.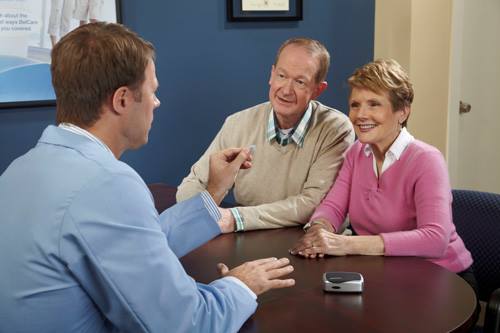 We can schedule routine monthly visits where residents can stop by or schedule an appointment to meet with us. If you have a monthly calendar, Newsletter, or an Activities Board, this would be a great way to let everyone know when we will be on site. During our visit, we can clean and check hearing aids, perform Otoscopic exams and answer any questions. We are fully equipped to perform on site hearing exams. Hearing exams can take up to ninety minutes so with some advanced notice, we are able to perform tests on site or schedule a convenient time to return. Hearing tests can be administered in a quiet room if available or in the patient's room if they choose. We do not charge any fee for this service.

We understand that hearing loss is a sensitive subject for some and is often ignored for many reasons. So many have been misinformed or simply do not want to accept that there is a problem. By providing information along with a regular presence, our familiar faces will encourage questions, provide answers, and bring solutions for your residents.

If you believe we could be a value added service for your community please fill out the form below.