VETERANS DAY HEARING AID GIVEAWAY
---
VETERANS DAY HEARING AID GIVEAWAY:
MY HERO WEARS BELTONE
CAMP HILL, PA., October 26, 2016 – For every 10 hearing aids sold November 7 through November 11, Beltone Hearing Aid Center will donate a pair of hearing aids to a veteran in need. This special giveaway will take place at all of Beltone's Central PA locations, including the offices located in Camp Hill, Carlisle, Chambersburg, Hanover, Harrisburg, Lewisberry, Shippensburg, Shrewsbury and York.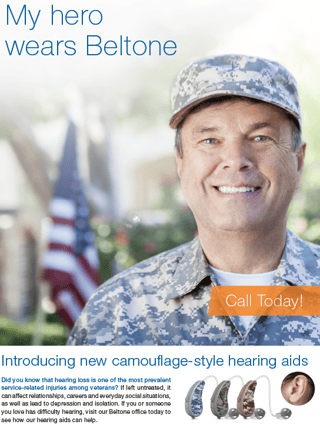 "I come from a family with a tradition of service in the Air Force, Navy and Marines. With Veterans Day approaching, it's difficult for me to know how I can give back to our nation's heroes. There are so many charities that claim to help, but I always have some doubt that the money I donate is going to help the people that really need it. As a small business owner, I see heroes in my offices on a weekly basis that need hearing aids but cannot afford them. This special giveaway is my way of knowing that the people who need help are receiving it," said Ronald Allander, Owner of Beltone Hearing Aid Center.
In addition to the hearing aid donation, all veterans can receive a free hearing evaluation, free flag lapel pin, buy one, get one 50%, and our brand-new camouflage hearing aids at no additional cost during this special week.
###
Veterans interested in learning more about this special week should give us a call at 717-763-1210 or click here to schedule an appointment.
---
Share this