How Beltone PA is Responding to COVID-19/Coronavirus
Beltone is taking action to ensure our patients are safe, and that daily operations remain efficient so we can deliver the support you need during this difficult time.
Increased spread of COVID-19 is causing uncertainty across the United States. From the first developments of COVID-19 in China, we have been working diligently to take all the necessary steps to ensure our patients, employees, and partners are safe, and that daily operations remain efficient, so we can deliver the support you need.
The health and well-being of our customers is the cornerstone of our business and seniors are the core of our customer base. Older adults are at higher risk for contracting COVID-19 and the Centers for Disease Control and Prevention (CDC) have provided guidance for how we should operate to minimize the risk of infections. We are following those guidelines, as well as others from the American Academy of Audiology, to deliver the safest care possible.
Here are some specific steps we are taking to support you in the safest way possible:
If you need help with your hearing aids:
The Beltone Foundation is providing free batteries by mail to anyone who needs them. To submit a request, click here.
Our Hearing Care Professionals are available to answer questions and trouble shoot common issues on the phone.
Your hearing aids might be able to be adjusted remotely through the HearMax app and Remote Care service.
Our Beltone @ Home service is available for pickup and delivery of your hearing aids for regular service and repair at no charge. If you don't feel comfortable leaving your home, we currently have drivers standing by. Call 717-763-1210 to schedule your free pickup and delivery.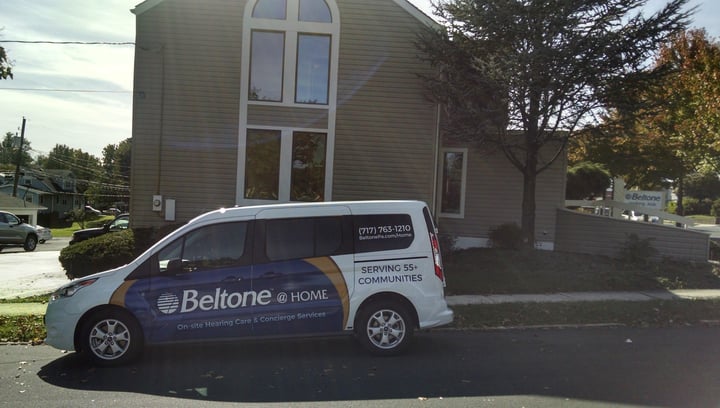 We are still performing scheduled hearing evaluations and accepting new appointments. If you are coming to an office appointment, please know that we have:
Enhanced cleaning protocols for our offices and equipment to minimize risk of infection to our patients and staff
Re-trained our staff on infection prevention protocols from the CDC and our industry associations and asked staff to refrain from unnecessary contact during all patient visits
Postponed large events, such as Lunch and Learns and Hearing Care Seminars
In addition, if you are not feeling well and need to re-schedule your appointment, we have opened appointment calendars beyond our typical two-week window to accommodate.
Our Hearing Care Professionals are ready and willing to help you.
Please call your local Beltone office to arrange support.
Share this